ABOUT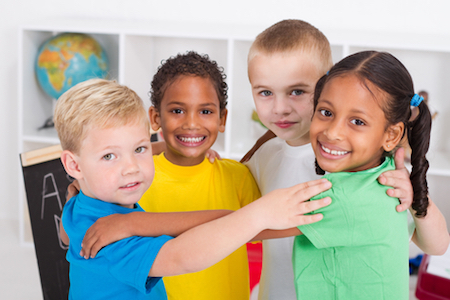 Appleview Early Learning Center and Preschool understands and respects the uniqueness of each child. The school's primary mission is to foster a love of learning while providing a safe, nurturing environment where children can have fun as they explore, play and learn with one another. We strive to instill integrity, compassion and confidence. We focus on providing a stimulating early care and education experience, to promote social/emotional, physical, cognitive and language development. Ultimately, through our program and staff dedication each child will be prepared for his/her upcoming elementary years.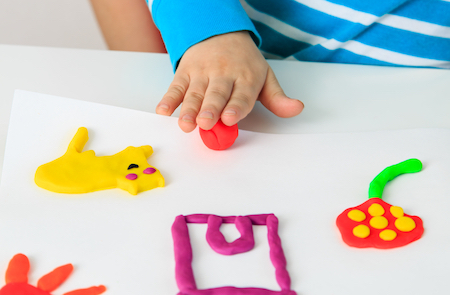 At Appleview Early Learning Center & Preschool, we are dedicated to providing outstanding educational childcare. We understand the potential that each child has and believe that curiosity is what drives children to explore, play, and learn! Our low teacher-to-student ratio will provide each child with the individual attention needed to help them succeed in his/her development. Teachers encourage children to explore, think creatively, and work both independently and cooperatively. Ultimately, each child is provided with support and encouragement to become his or her own unique self.
We also understand every parent's concerns when leaving his/her child somewhere for the first time and every child's feelings when being separated from his/her family. Therefore, we aim to build a positive and welcoming community that is a home away from home. We provide a relaxed admissions process, remarkable certified teachers, developing curriculum, extracurricular activities, and extended hours for children ages 6 weeks – 5 years.
We invite you to come visit our school to take a tour, and enquire about our curriculum, programs, and exciting activities available for your child! We enjoy speaking with families, providing advice, and of course answering any questions you may have.
A positive parent-teacher relationship is essential to the educational success of our children, that's why our teachers make it a priority to keep an open line of communication. Learning is an interactive process between the teachers and the children. Our certified teachers and caregivers are true professionals and partners in the caring and teaching of each child. They prepare lesson plans and activities that are appropriate for each age group and consider the different needs, interests, and developmental levels of individual children.
Most importantly, parents and teachers work together to develop goals for each child. Teachers work as mediators to emphasize language acquisition and development. They provide children with opportunities to play and work with other children, make choices, encounter consequences, and negotiate social conflicts using appropriate language.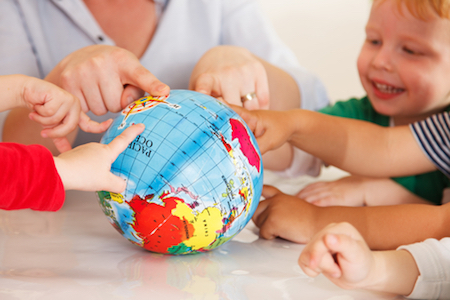 The curriculum we follow in our program is based on the concept that children learn through exploration and play. It is vital to us that children build their knowledge through exploration, interaction with real life materials, and imitation of role models. Children work with teachers in a collaborative environment to address different areas of development. In this type of setting, knowledge and authority is shared between teachers and students. Teachers hold important knowledge about skills, content, and instruction, and provide that information to students. However, students also provide knowledge, personal experiences, language, strategies, and culture, which teachers value and build upon. Teachers work as facilitators and mediators in creating rich environments by linking new information to prior knowledge. This provides opportunities for collaborative work and problem solving, and offering students a wide range of genuine learning tasks.
"Our daughter thrived at Appleview. We watched her grow from a shy, cautious three-year-old to a confident five-year-old during her time there. She was excited to go to school every day to learn and play, and we were at ease knowing she was spending her days with teachers who understood and appreciated the unique qualities of our daughter. Appleview is a special place!"
- Alviar Family

"Our twins attended Appleview for two years (ages 2-4) and during this time we always knew our children were in a safe, caring, fun, and educational environment. Amanda, the owner and director, was especially hands-on and always available to answer any questions. The fact that our boys did not want to leave at the end of the day assured us that we made the right decision in choosing Appleview!"
- Patel Family

"The absolute best! My daughter spent two years at Appleview and blossomed in every area of development. Their curriculum and enrichment class are amazing and totally geared toward the child at their level of development. The teachers are so warm, caring, nurturing that I felt comfortable leaving my precious one in their care. The director and teachers are always available to discuss both progress and challenges. Also, being a single mom, they became a big part of my support structure. Unfortunately, I had to leave the area for work, otherwise my daughter would still be there."
- Stamm Family

"My son began attending Appleview at 19 months old and loved being there. Amanda, the teachers and staff are professional, attentive, knowledgeable, and took great care of my son. The communication with the school is the best I have experienced and my son thrived with the curriculum, extra activities and field trips through the 2.5 years he attended Appleview."
- Family since 2013

"Finding the right school is much like shopping for a house - you know it when you've found one. That was our first impression with Appleview. The fresh scent in the classroom, bright and welcoming spaces, and details for children's safety were only the baseline. The energy of the teachers, the loving and caring atmosphere, and a diverse student body, were the elements that won us over.
Now, four years and two children later, I can attest that Amanda and the staff had earned our *trust* and *respect* by demonstrating consistency on the quality of curriculum, equal attention to the children, balanced training on social as well as daily manners, and a continuous effort to provide a safer and better learning environment. We witnessed all of these in the past 1300+ days, and there is more.
Amanda and the staff shared their genuine love and thoughtfulness not only to the children, but to the parents as well, for example, their responsiveness to our requests and concerns, running out in the snow to get the kids in, festivities on holidays, and the well-anticipated, highly-praised parents-night-out to Moms and Dads for some R&R. All these up-and-beyonds have gone a long way.
Our children's laughter in school is the best evidence of the wonder that Amanda and the staff made. We'd highly recommend Appleview, and we are confident that you'll do the same after seeing that smile on your children's face, too."
- Li family

"I can't say enough good things about Appleview. Teachers and director are wonderfully warm and responsive to the children as well as the parents. My daughter was 3 months when she started and I used to call every day to check up on her. Director and asst. director were extremely friendly, informative and made me feel comfortable right away. The staff really provides an ideal setting for the introduction to formal education from a very young age. They are very patient, kind and loving. If I ever have a question or concern, it is addressed immediately. She is now in the older toddler program and learning new things every day. I along with the rest of my family and friends are impressed with how much she knows at her age and I give all the credit to her teachers. Education is A+ but, what I truly love most about the school is that it feels like everyone there - from the director and teachers to the other parents - knows and cares about your child's growth and well-being. We cannot be happier!"
-Jerie Family

"We are Kidz Musik, a long-time "edutainment" (education & entertainment) program in Bergen and Hudson counties, est. 1999, with the majority of our programs in music and dance. We have been servicing multiple schools and recreation centers in the area, and have seen thousands of children through the years.
We can sincerely testify that we are very impressed with the structure of the Appleview operation and their loving care towards all of their students. We have been working with Appleview since their opening and would like to say: CONGRATULATIONS AMANDA AND STAFF! It's only been a pleasure to see this school blossom to what it is now, and we have no doubt of your growth yet to come. Children are the "crème de la crème" of humanity and deserve only the very best from all of us! It is truly wonderful to witness happy children, under such loving care, in a nurturing environment that functions as an extension of their own homes and families! Go Appleview Go!"
-Joe & Carmen from "Kidz Musik"

"Amazing! Amazing! Amazing! We are extremely happy and glad we chose to send our only son to Appleview. At one point, we felt almost jealous as Aniketh would prefer to be in school than at home. He has learned so much while he was in Appleview. Sometimes he amazed me when he explained life cycle of butterflies or solar system or solving any kind of puzzles. Teachers are wonderful each and ever one of them. He made so many new friends. I highly recommend Appleview Early Learning center.
Thank you Amanda and crew you guys are the best. Love you all
Thanks again for the wonderful 2 plus years of caring for and nurturing our son. We are grateful for that and will visit you guys when we are there next time."
-Pramod family

"My experience at Appleview over the past two years was fantastic. Amanda and the teachers create a safe, friendly, non-competitive environment that allows the kids to learn and have fun, while parents feel comfortable leaving. Both of my boys loved every minute they were at Appleview - from the staff, to the classroom activities and extracurricular offerings. Appleview was the ideal school for my boys to begin their education."
-Castaldo Family

"God-Sent Place for Us". -Mia and Christian's Mom & Dad
"I'm a mom of two beautiful children like every other mom in the nearby area with the exception that we have one child who has a chronic illness which is a bit restraining on our options for childcare. Appleview is literally our home away from home where we know that our children are safe and well cared for. After interviewing several nannies and meeting with numerous child care facilities, Appleview's team demonstrated the highest competency level when it came to our daughter's respiratory therapies while outside the home. We wanted to give her the most normal life possible and with a household of dual incomes we needed to find a place where both our daughter and our family were comfortable having her attend long hours because of our demanding careers.
Appleview was a God sent place to us during a very trying period for us as a family with a special needs child. Our daughter's health issue required a space where it is immensely clean at all times, direct supervision, timely efficiency in administering respiratory therapies, and a place where she was gong to be intellectually stimulated. This is a very impractical checklist because it requires a facility to be seamlessly flawless. We feared because of the amount of medicine from neonate that it would be difficult and challenging for our daughter to progress, instead at Appleview she mastered talking, identifying shapes, colors, and now can identify the alphabet and write her own name. It is extremely comforting to know that such a place exists with such a dedicated team of early learning teachers and aides. I think what I love most is the open door policy of being able to drop in unannounced and the daycare being encouraging of that. I have always been able to connect with the aides and teachers and express my concerns. Additionally, the Director has a poise and sensibility to her character that allows you to not be frustrated if something isn't quite how you expect it to be--she tries to explore every avenue for a resolution but also finds a solution in a time-efficient matter.
Our little girl has been with Appleview since she was 13 months old. We are proud to have see. our little girl advance to a Shiny Apple. Our son has been in the Tiny Seeds nursery since my maternity leave finished at just 10 weeks old. He is now 9 months and already standing and cruising. There is a sense of a much rewarded feeling when you know your children are still thriving while you are away maintaining your career.
The location is amazing as it is close to the ferry and NJ transit bus line, which allow for flexible drop offs and pick ups between my husband and I absolutely love the option of extra curricular activities during the school hours so weekends don't have to be so hectic. And not to mention date night! Yes, you read that correct. Appleview comprehends the need for mommy and daddy to have a normal adult conversation over dinner just down the road.
Our children have established some incredible friendships and I've met some pretty incredible moms that I'm happy to call good friends today.
I'm a believer and perhaps more of an enthusiast of this facility because it has helped our children and family in so many ways."
- Mia and Christian's mom